Gibsland, LA (December 27, 2019) – Thomas L. Martin, Chairman, President & CEO, along with the Board of Directors of Gibsland Bank & Trust (GBT), in its continued effort to effectively serve the communities of Northwest Louisiana, is pleased to announce Wade Holloway has been named Market President for the newly formed Webster and Claiborne Parish market.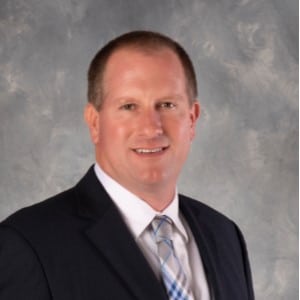 "Wade has proven himself a strong leader in our company and a trusted partner to our customers and communities," said Thomas L. Martin, Chairman, President & CEO of GBT. "I thank him for his continued leadership of our great banking team in this important role and look forward to anticipated growth opportunities in the coming new year."
Wade began his career in banking in 2001 and has been with GBT since 2009, where he served as Market President for the Claiborne & Bienville Parish market area, with a focus on commercial lending.
In his new position, Wade will provide leadership and direction for the four GBT Branches located in Webster and Claiborne Parishes including the Minden, Sibley, Homer, and Athens Branches. As part of this restructure, GBT Chairman, President & CEO Thomas L. Martin will be managing the Bienville Parish market. Shane Blythe will continue to lead the Caddo/Bossier market.
"Wade consistently earns the confidence and respect of our customers through his unwavering integrity, his unmatched expertise, and his unfailing reliability," said Andy Gilbert, CFO of GBT. "Having driven GBT to market-leading positions in Claiborne and Bienville Parishes, we look forward to his continued success in his hometown of Minden."
Wade grew up in Minden and is a graduate of Glenbrook. He is a graduate of Louisiana Tech University, the Graduate School of Banking at LSU, and the American Bankers Association Commercial Lending School at SMU. Wade is married to Melanie Holloway of Homer, and they have two children, Hylie and Kase who attend Claiborne Academy.