DEPOSIT CHECKS WHEREVER YOU GO
Use your GBT mobile app to deposit checks from your phone in addition to accessing and managing your account. Sign in to your GBT mobile app, tap (+), tap Deposit, and follow the steps.
Complete your banking tasks effortlessly — just snap a photo of the front and back of your signed check and you're done. Be sure to take the photo on a flat surface with a dark background and good lighting. All checks must be endorsed with the following three items:
Customer Signature
For Mobile Deposit Only
Gibsland Bank & Trust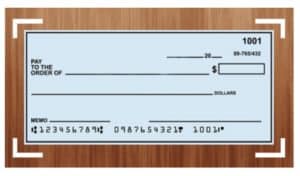 All Mobile Check Deposits are subject to verification and final review and may be rejected by us for any reason. Your deposit is not approved until you have received an approval email or text notification from us. Deposits will not be available for immediate withdrawal. The limit for mobile deposits is $10,000. If you need that amount increased or adjusted, please contact your local GBT branch.
Any deposit received after 4:00pm CST Monday-Friday (except holidays) will be processed the next business day. Items that have been confirmed as received and credited to your account should be destroyed and disposed of after 30 days. You agree to properly secure and dispose of the items to ensure that they are not represented for payment.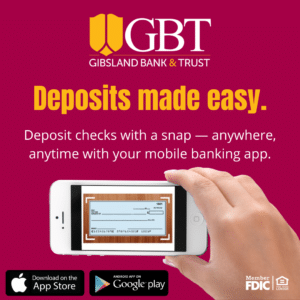 FOR OUR GBT COMMERCIAL CUSTOMERS
COMMERCIAL CAPTURE XPRESS™
Commercial Capture Xpress™ is a merchant remote deposit capture system that lets you electronically make check deposits to your GBT accounts. We'll provide a special scanner; all you need is a computer connected to the Internet.